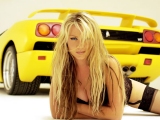 Before The Event:
- Be a SCCA member: While you don't really have to be a SCCA member to participate in most of the autocross events, but there are a lot of benefits in becoming a SCCA member such as cheaper entry fee. For more information on how to be a SCCA member, just follow this link.
- Know your car/class: Try to find out what class you are running in to save some time in the registration process. Different types of cars and the level that it has been modified are categorized and will compete in the same group of cars with similar performance. The best way to find out all this information is to get a SCCA Solo rulebook.
- Get your gear: There is at least one required gear that you will need in all autocross events and it is a helmet. Not just any helmet, but a helmet that is Snell 90 approved or later. There are usually loaner helmets that you can use if you dont have one, but you should consult the club before the event to make sure. Remember, No Helmet, No Race.
- Clean you car: Both in and out, especially the interior. Remove anything that you dont need during the event like junk, magazines, fuzzy dice and those cute little air fresheners. Basically anything that is not securely attached to you car. Since during the race, you and your car will be subjected to higher than normal g-forces and anything that is loose will be thrown around inside you car.
- Get some sleep (and cash): Make sure you have enough sleep before the event, because you will be there from early morning to late afternoon. An autocross event usually last for 8-10 hours. Also you will need some cash for the entry fee.
- Fuel level: One last thing before the event is fuel. Make sure you have at least ¼ of a tank of fuel left in you car during competition. Due to the high G's generated during racing, your car might have trouble picking up fuel under extreme situations like coming out of a tight turn at high speed (It happened to me before).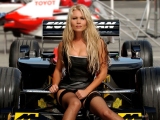 At The Event:
- Registration: Registration is pretty straightforward; you pay the fee, pick a number and sign the wavier. After registration, you will need to get you car through tech.
- Get you car ready: Now is the time to get your car ready for the race. Remove any loose items, objects and any thing that you bring along for the event. You can also (if you choose to do so and it is perfectly legal) remove the spare tire and the jack from the trunk. Now put your racing wheels on (if you have a set for autocross) and you are ready for tech.
- Tech Inspection: During tech inspection, they will check you car for any potential problems like leaks, broken parts, and loose items. Basically any that doesnt look, sound or feel right. Remember, safety is ALWAYS first! Also you helmet will be checked.
- Walk the course: Walking the course can be a little bit intimidating, especially for beginners. In that case, to get the most out of walking the course would be walking with a more experienced driver. Just ask around and I am sure there are plenty of people that will be glad to show you the way and may be throw in some tips and pointers too. For a more in depth look at walking the course and to get the most out of it, just follow the technical section link.
- Attend the drivers meeting: Make sure you attend the drivers meeting as important information like, running order, number of runs per heat, work order and safety issues will be announced during the meeting. In addition, you can also raise any concerns or any issues that other people might overlook. If you dont understanding anything or if you missed something, don't be afraid to ask!